2021 Year(s) in Review
I did, in fact, write a 2020 Year in Review post, but didn't have the heart to finish it. Luckily, I'm in a slightly better state of mind this time around. This post will be a combination of the past two years. I'll try to keep it brief.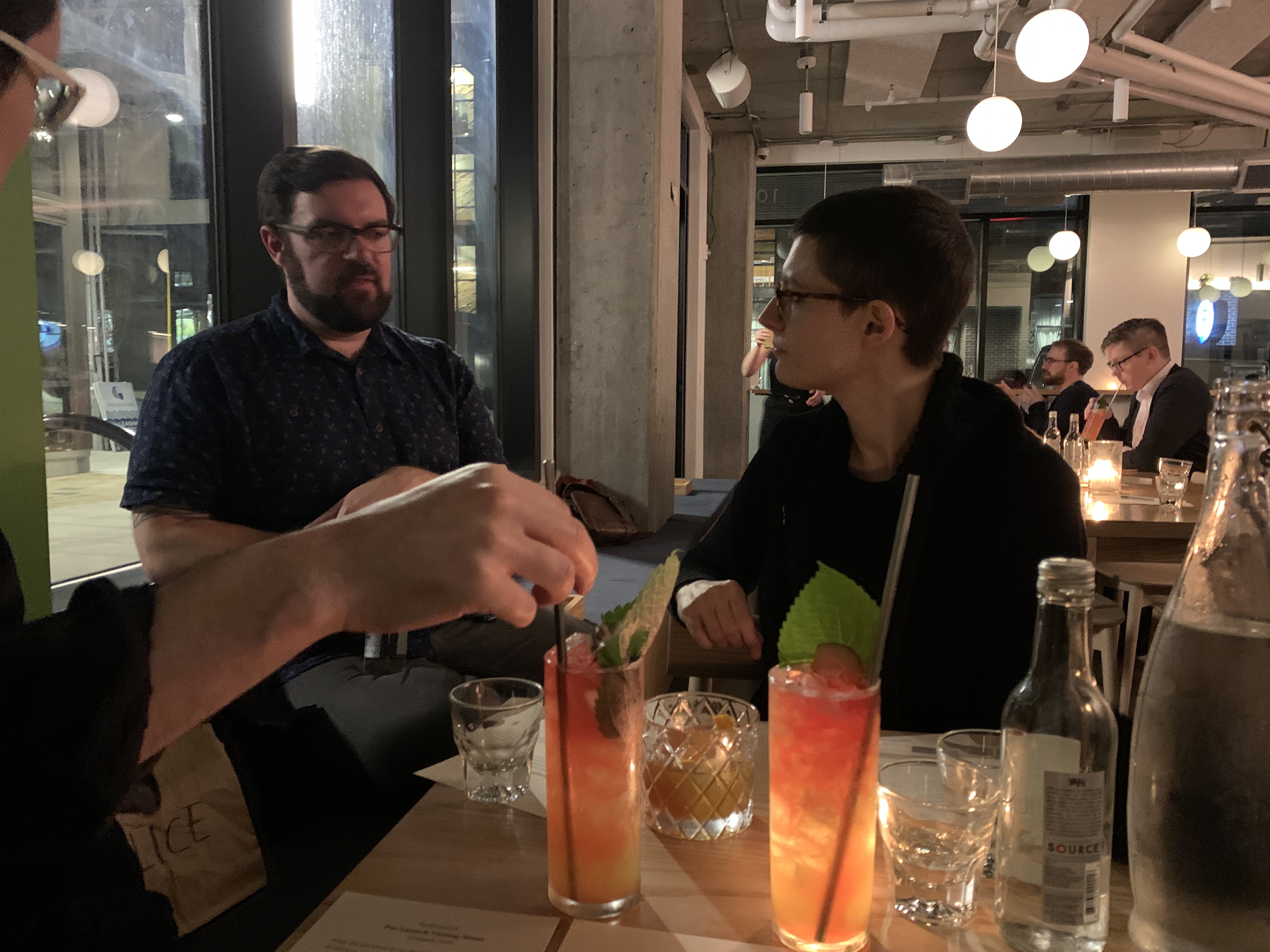 My last indoor dining experience (which is a phrase people say now), February 2020.
First, let's acknowledge The Horribleness. The things that were bad. The things I survived:
The pandemic. The isolation. The loneliness.
Months of police brutality out in the streets. Taping up my windows to keep out tear gas.
The dead days of having the worst AQI in the world with nowhere to go and no one to help.
My friend driving me to the emergency clinic, because I had correctly diagnosed a blood clot in my leg.
Having panic attacks at the thought of my sister dying, my parents dying, my friends dying.
Watching a coup attempt on live TV.
The record-setting "heat dome" that drove me to sleep on my office floor, because it was the only room with AC.
Most of these happened in 2020 (what a year!) while 2021's pain has been softer and more insidious. But I don't want to focus on that now. I want to talk about good things.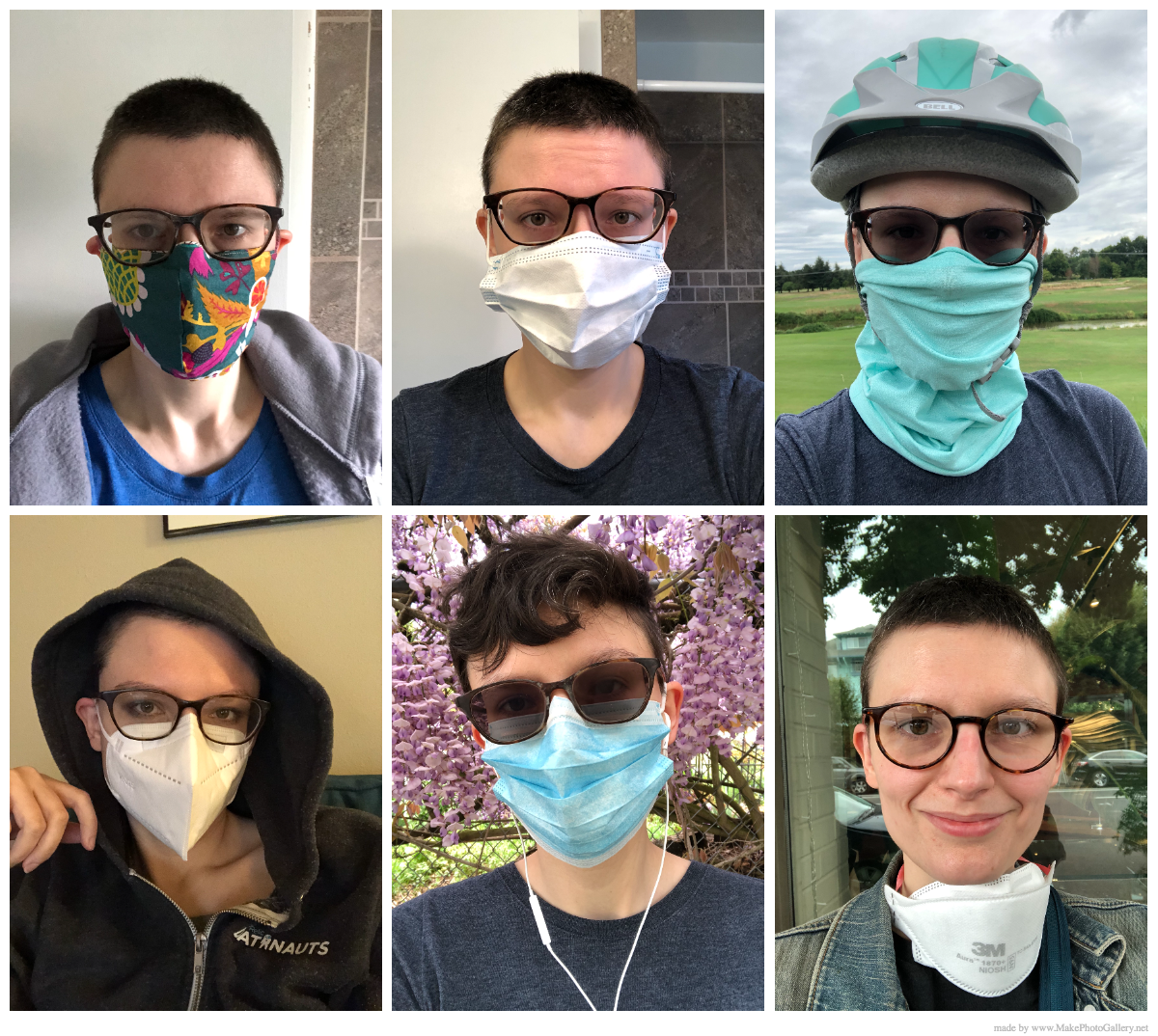 Masks and home haircuts, a history.
Safe Mode
For the past two years, I've implemented my own Safe Mode. If you're not familiar with this term, Safe Mode is a secondary mode available in most operating systems usually after a fatal state. It allows you to access basic and crucial functions of the system in order to diagnose and recover from the crash, but doesn't let you access the full suite.
For me, this meant assessing the activities still available to me and asking myself: "Is this essential?" and "Does this bring me joy?" Essential activities included working, cooking, and taking myself on walks for exercise. Things that brought me joy included running my monthly meetup (virtually), writing, and weekly calls with my friends. Things like game streaming and doing virtual conference talks did not qualify, because the amount of work I put into them was not worth what I got out (mentally and emotionally) at the time. Turning down virtual conferences was a big decision I had to make, but I feel I made the right one for me. I love giving talks, but I love doing it in person, onstage, where I can entertain and meet people afterwards. Doing this virtually wasn't the same, and I'm lucky to be in a place in my career where I can bow out of this and not have it really impact me.
Making this call early in the pandemic likely saved me from burnout levels of stress.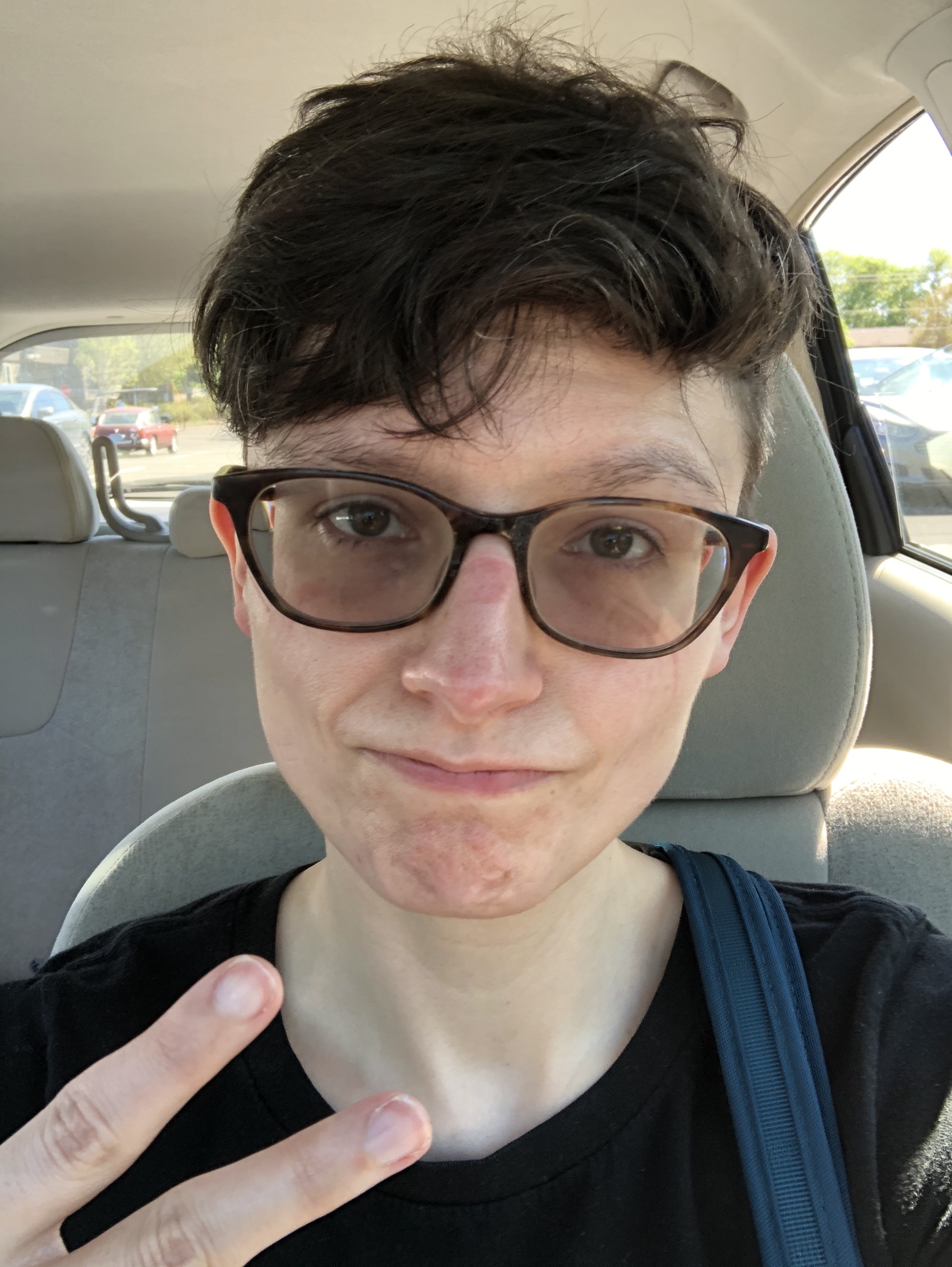 Double vaxxed, stressed to the max.
Vaccinated!
I got vaccinated! Twice! And a booster! Time passes so oddly right now, but I got my first shot barely 9 months ago and drove 90 miles to do it. It was a stressful, white knuckle experience both times. And I wish things had turned out better, with more people having access to vaccines and more people willing to take them. But I'm still very grateful for the science protecting me.
New Job
I got a job! I started interviewing right as the pandemic really hit the states, leading to a lot of interesting experiences (like propping a makeshift whiteboard up on my computer chair to do coding exercises via Zoom). I am now a staff engineer doing resilience work, writing mostly C and Rust. I really, really like my work and the people I work with. I also made the early decision to keep my employer private, and that has worked out really well for my mental health. I'm not ashamed of this company at all, but it's been wonderful not being an unofficial spokesperson.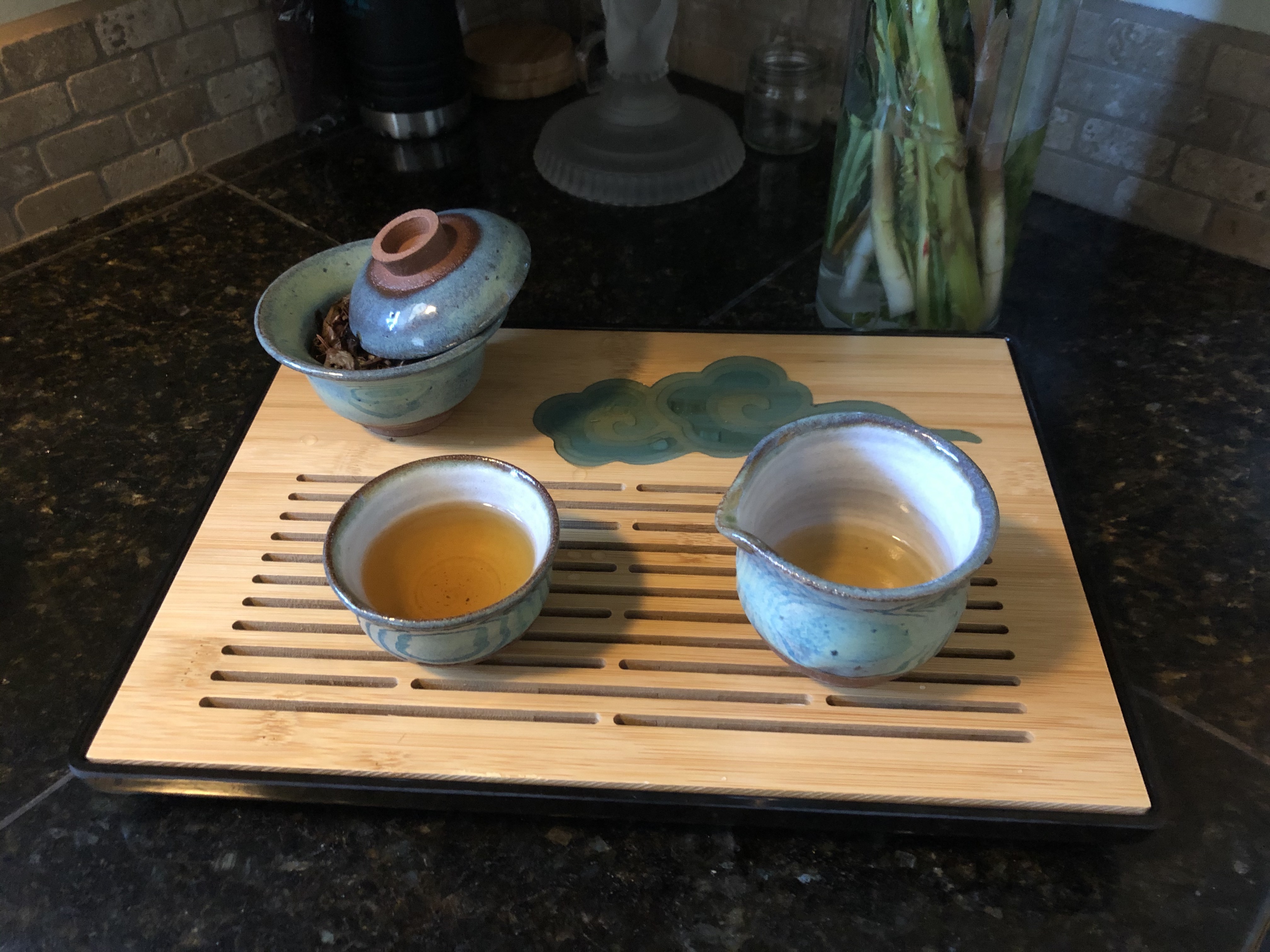 Upped my tea and teaware game in isolation.
Puerh
Since I couldn't travel or barely leave my own neighborhood, I decided to satisfy my wanderlust with tea. I focused on puerh, because I had no experience with it, and I thought it would be fun to buy tea directly from China. And it was! Even when global supply chain issues made it take months to arrive, dropkicked and crumpled. I'm still discovering my palate for puerh, but I definitely enjoy sweet shou. I now have a dangerous amount of cake samples (and oolong, and matcha), and finally expanded into another tea cart and new tea accessories. I liked tea before the pandemic, but I am a verifiable snob now. It's just something I'll have to live with.
Vacation
I took a vacation, kinda! My favorite type of vacation is traveling to a new place and spending all day in museums and restaurants. This year, I spent five days in a cabin in the woods. It was cold and I was the only person eating outside (because it was cold) and it was basically me being alone with a different view. But the view was lovely, the quiet was perfect for writing, the cabin had a wood-burning fireplace, I drank a lot of tea, and I saw bald eagles fly by almost every day.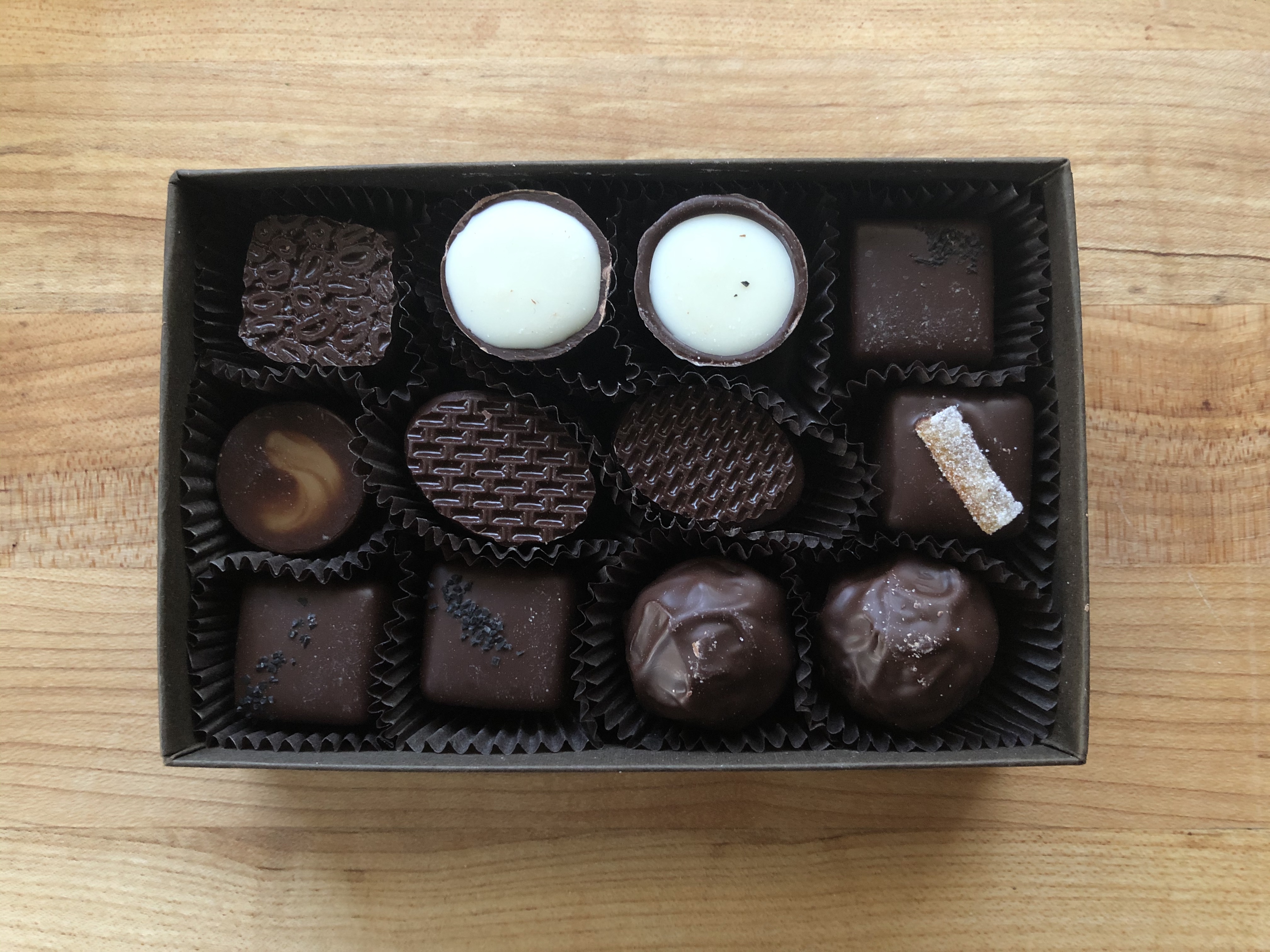 Chocolates to celebrate my first professional fiction publication.
Fiction
When the pandemic hit the United States, I was unemployed and had picked up fiction writing to pass the time. I kept writing throughout lockdown and beyond, sending stories to my friends for feedback and then submitting them to magazines to give myself some hope. Well, they started selling. My first pro sale was published in Fantasy Magazine in April 2021, and I have another one upcoming in Nightmare in February 2022. I attended the Nebulas (virtually) and my one story is on the Nebula Recommended Reading list. I was not expecting any of this, and I don't expect it to continue. But I am really proud and will continue to write regardless.
Monthly meetup
I've been running a monthly DevOps meetup for seven(?) years now and pivoted it hard to virtual in March 2020. We have been virtual ever since. While attendance has been cut in half, due to a combination of other responsibilities and Zoom meeting burnout, I'm still proud of how membership has shown up for each other during these terrible times. We've had wonderful talks and discussions, with focus on both tech and community, and we were also able to continue our annual NAYA fundraiser by switching from a gift drive to straight up monetary donations. This year we raised over $3000.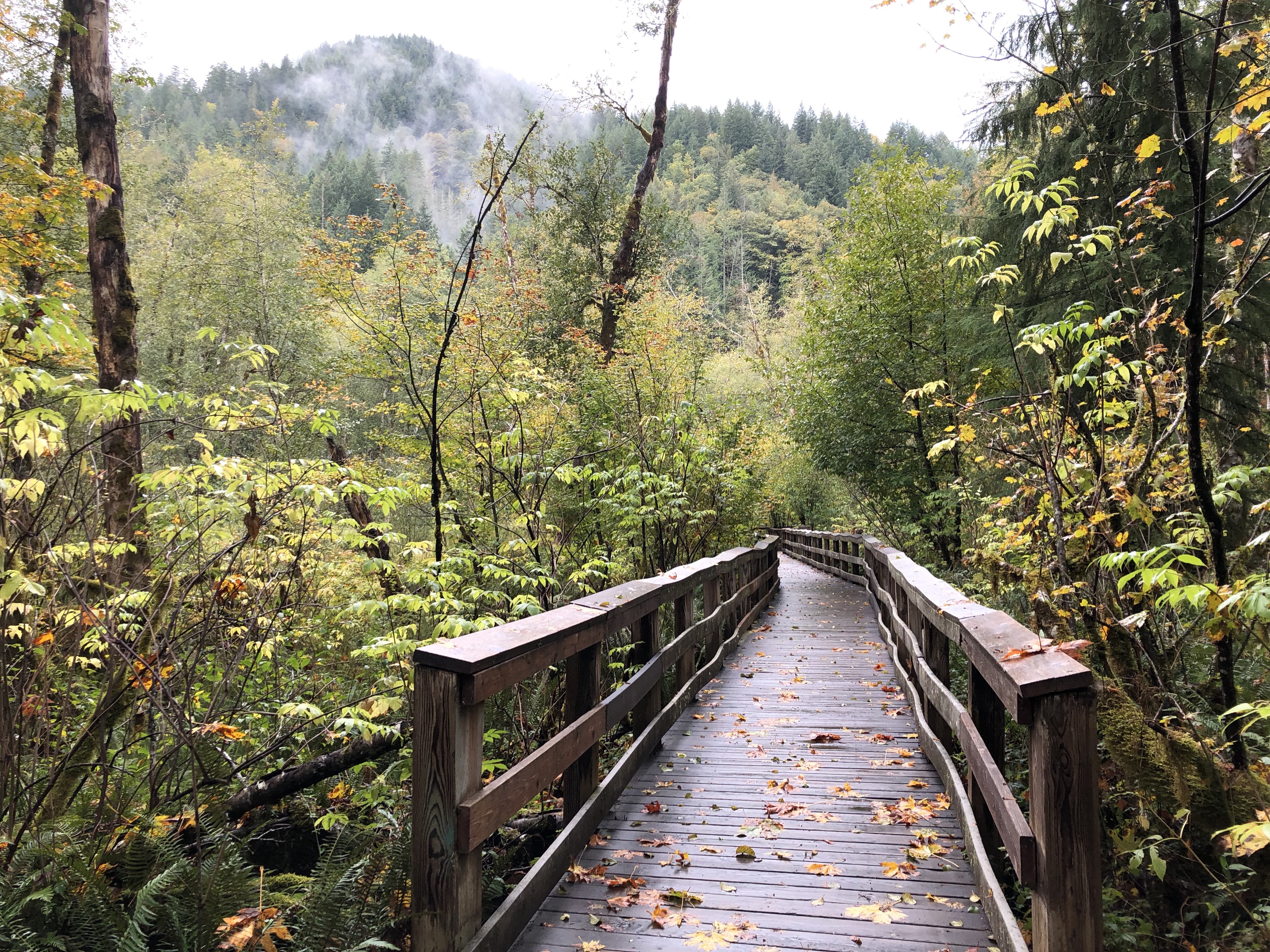 I'm grateful for every piece of nature I could find.
Things that keep me going
Twitch streams: I'm not a gamer, but watching other people game has brought me a great deal of comfort. I especially appreciate unobtrusive streamers who let the focus be on the game and sharing the story with you. My current favorite is supergreatfriend
Podcasts: Similar to the game streams, conversational podcasts trick my brain into thinking my kitchen is full of friends. I have listened to a ton of Writing Excuses, Queries, Qualms, and Quirks, and I'm just starting on Worldbuilding for Masochists.
Speech-to-text: When the pandemic started, nearly all my human interactions went digital, and this was hell on my hands. I now use speech-to-text everywhere. I use the built in iOS speech-to-text feature on my phone and Talon on my desktop. I'm using it to write this post right now.
My Levo book stand: Reading books certainly made the time pass quicker, but it also led to a lot of neck/shoulder/arm strain. I finally caved and bought this book stand, and it has been worth every penny.
C-dramas/K-dramas: What better way to avoid the world than beautiful (and long) costume epics? The Rise of Phoenixes, Mr. Sunshine, The Rookie Historian, Kingdom, and Hotel del Luna are all great.
Decent cookware: I don't like cooking, but I like it a lot more now that I have a decent Dutch oven, tri-clad saucepans, and a spider for dumplings/pasta.